The process of Embryo Transfer at the IVF Center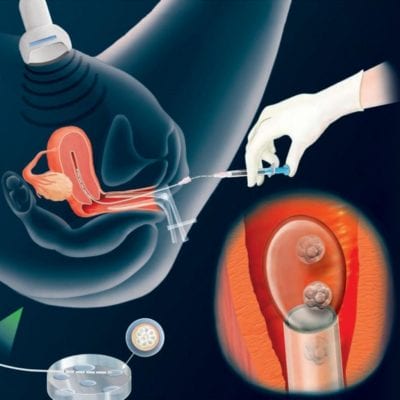 The process of embryo transfer is very simple and painless and is done without analgesia or anesthesia. The number of embryos transferred depends, first of all, on the quality and secondary on the desire or not of a multiple pregnancy. The maximum number of embryos that can be transferred to women is two in ages up to 39 years old, three to women of 40 years old and four to women of 41 years old and over.Embryos, along with a bit of their growing material, are removed by suction in a soft embryo transfer catheter which subsequently crosses the cervix and, with ultrasound guidance, the embryos are placed in the endometrium near the bottom of the uterus.
The catheter is then removed and checked to confirm that all embryos were transferred into the uterus. The woman is usually left lying for an hour and then she may return home.
The process of embryo transfer in Mitosis IVF Center